Today is International Men's Day (IMD). It is marked on November 19 each year to celebrate boys and men's achievements and contributions to the community, family, marriage, and childcare.
The Day is also used to highlight gender equality and the struggles men and boys face which include a high suicide rate, discrimination against men and shorter life expectancy.
The first International Men's Day was marked in 1992 with six core objectives;
To focus on men's health and wellbeing; social, emotional, physical and spiritual.
To celebrate men's positive contributions to society, community, family, marriage, childcare
To highlight discrimination against males; in areas of social services, social attitudes and expectations, and law.
To improve gender relations and promote gender equality.
To promote positive male role models; not just movie stars and sportsmen but everyday, working-class men who are living decent, honest lives.
To create a safer, better world; where people can be safe and grow to reach their full potential.
Currently, the annual event is celebrated in over 80 countries in the world. This year's event is on the theme "Making a Difference for Men and Boys".

As GBCGHANAONLINE.COM joins the global community to mark the Day, we profile some Ghanaian personalities making a difference in Ghana, their communities and in the world.
The list below is in no particular order.
Dr Mensah Otabil
Dr. Mensa Anamua Otabil was born on 31 August 1959 to Dinah and Lloyd Otabil.
He has a history of being charitable and is involved in a lot of social impact projects. Every year, the International Central Gospel Church—a church he founded, invests in projects for the less privileged. Some examples in the past have been donations to the Ghana Heart Foundation, construction of a boy's hostel for the Osu Children's Home and digging of boreholes for needy communities.
Dr Mensah Otabil has been awarded honorary doctorate degrees for his work in various fields. He is a recipient of a Millennium Excellence Award. In 2007, he was honored by the Government of Ghana with a state award, Order of the Volta (Religion).
He was, in 2013, considered the twenty-fourth most influential Ghanaian, and in 2015, Ghanaians voted him as the "Most Influential Person in Ghana", according to a list published by ETV Ghana.
Togbe Afede XIV
Togbe Afede XIV was born on 23rd April 1957. He is the President of the National House of Chiefs, Ghana and the Agbogbomefia of the Asogli State and President of Asogli Traditional Area in the Volta Region of Ghana.
He has over 18 years of experience in investment banking, co-founded Databank Financial Services Ltd in 1990 and founded Africa world airlines in 2010.
Togbe Afede XIV has played a critical role in the development of Ghana's capital markets, including developing and publishing the first-ever stock market indices in 1991.
Togbe has initiated moves to establish, with the help of foreign investors, a 1,000 megawatt power plant which would be powered by coal imported from South Africa, this would go along way to provide employment.
With regard to education, Togbe Afede argues that the value of a man should be seen not in what he is able to receive but in what he gives. For this reason, he has repeatedly said that education is the answer to the problems of poverty, disease, and intolerance in Ghana.
As part of his vision to promote education development in his state, Togbe Afede XIV instituted the Asogli Education Fund to cater for brilliant and needy students.
Togbe's good deeds list continues on and on and indeed he is a blessing to the nation at large.
Anas Aremeyaw Anas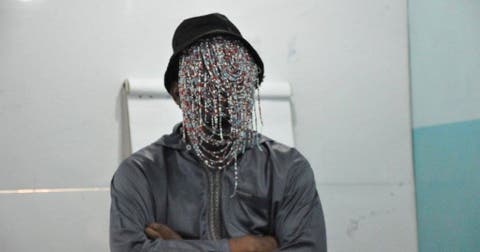 For almost 20 years, he has been defying the odds and pushing the envelope when it comes to investigative journalism. His work has spanned various parts of the world. He has done work in many parts of the world, different parts of the country and globally recognized for his intrepid approach to telling the African story and exposing evil.
Anas Aremeyaw Anas, better known as Anas, is a Ghanaian investigative journalist whose objective is to "name and shame" wrongdoers in society.
He is famous for utilising his anonymity as a tool in his investigative arsenal and very few people had seen his face.
Anas maintains his anonymity by shielding his face when conducting TV interviews and making public appearances. His 2015 documentary film Ghana in the Eyes of God dramatically revealed corruption within the Ghanaian judiciary, where no fewer than 34 judges were suspended as a result of the documentary.
Anas' primary focus remains in Sub Saharan Africa and his human rights investigations deal with creating a better life and providing equal opportunities for both children and adults.